Compliance Standards LLC (CS) is pleased to announce the release of  a series of strategic assessment reports on IT asset disposition (ITAD) in the enterprise and in high-value verticals (HVVs). This year's research series is titled: Profile, Path-to-Purchase and Customer Touchpoint Analysis.
This body of work provides an updated view on ITAD in the US enterprise market, with additional focus on the financial services and banking, healthcare, retail and utilities, with regards to the lifecycle and disposition of desktops, laptops, datacenter equipment, smartphones & mobile devices, and POS/terminals.
It addresses many critical questions on the performance of ITAD in HVVs, and among the many topics covered are:
Strategies driving ITAD policies, planning and usage in large vertical industries
Critical sources of influence, input and learning about ITAD ITAD level of adoption, practices, and implementation
Competitive landscape and loyalty analysis
ITAD economics and HVV market sizing
Developing trends with potential impact on ITAD space
Etc
Profile, Path-to-Purchase and Customer Touchpoint Analysis is available to you in the following formats and deliverables:
———————————————————————————————————
Compliance Standards offers several ways to access this research:
———————————————————————————————————
. High-Value Verticals Report Series. Subscription to 12 Premium Documents released monthly
Compliance Standards Analysts release in-depth value-added reports on ITAD in the enterprise and in specific vertical market. Twelve (12) reports are scheduled to be released as part of this package. Tentative schedule.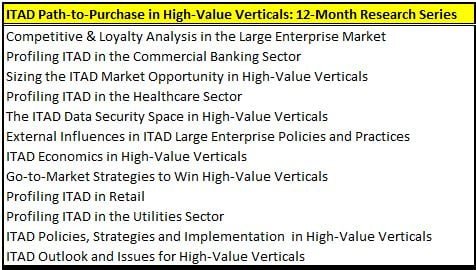 In addition, adhoc reports will be made available during the year-long subscription period specific to the competitive market, market indicators, data review, news and announcement reviews, etc-
Details and subscription information
———————————————————————————————————
. Industry Benchmark: ITAD Practices in Finance, Healthcare, Retail and Utilities.
Designed for Managers and decision makers in the above listed vertical sectors, this report provides comparisons and data that can be used to compare your practices vs. those of peers in your sector.  Details and subscription information
———————————————————————————————————
. Half-Day Strategy Session at your Company Site
A Compliance Standards Analyst will travel to your offices for a half day presentation and an executive strategy session. The session will review the findings, provide guidance on the market, and review your company's strategy.   Details and booking information
———————————————————————————————————
. Analyst Presentation: ITAD in High-Value Verticals: Profile, Path-to-Purchase & Customer Touchpoint Analysis
This is a comprehensive presentation of 100+ slides providing you all the key findings and summaries of the research. This includes a 90-minute phone inquiry with an Analyst.  Details and purchase information
———————————————————————————————————
. Full Data Set Access: XLS Banner Book & Raw SPSS Data
We offer you access to the raw data in both SPSS and XLS so that you can conduct your own analysis and due diligence. Contact us for price and terms and conditions.  Phone: 508-981-6937   or at inquiries@Compliance-Standards.com |  Download page for existing customers here.
———————————————————————————————————
. EXPIRED: Conference: Enterprise ITAD 2015 Summit | Downtown Columbus, Ohio | December 3, 2015
Mark your calendar. You are cordially invited to join us in Columbus, Ohio for a strategy day at the Renaissance Hotel in downtown. We will present our findings on enterprise ITAD and on fresh upcoming research. We are inviting some end-user decision makers in large companies to come and speak.